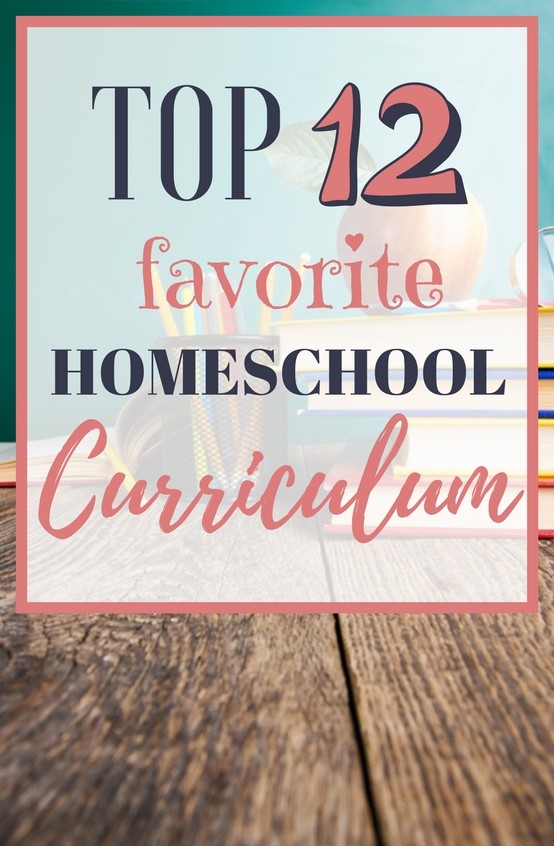 After 19 years of homeschooling–I've tried a lot of curriculums!  Homeschoolers have so many great curriculum choices available…Which is awesome, BUT–it can be totally overwhelming!  Don't let the multitude of homeschool curriculums scare you into analysis paralysis!  Here's the thing–there is no one perfect curriculum!  We all have different needs and preferences.  However, I do think it's helpful to learn what's working for other homeschool families!  So today, I'm sharing my top 12 favorite homeschool curriculums –I hope this list is a help and blessing to you!
My Favorite Homeschool Curriculums
In no particular order…Here are my UPDATED Top 12 Homeschool curriculum recommendations! 
Some are old favorites I keep coming back to–I used them with my older children and plan to use them again for round 2 with my younger children…
But some are new discoveries that have stolen my heart and added new joy to our homeschool journey!
I hope these homeschool curriculum reviews and overviews will help you as you plan out your year!
My Favorites for Teaching Math:
I'm in the "I love Saxon Math," camp!  Not everyone loves Saxon–and that may be putting in mildly.  But I've had a lot of success with it–especially in the elementary years!  It is incredibly thorough, includes lots of repetition, and skills are built up in small increments over time.  Saxon introduces and explains concepts brilliantly–and I have learned so much by teaching the curriculum over the years. (Here's a post with ALL the nitty-gritty Saxon details!)
The primary years (Kindergarten through 3rd Grade) are very hands-on and manipulative based.
The upper elementary and middle school levels are more workbook based.  The workbooks are large and include the lessons, practice problems, and assignments.  I would read over the daily lesson and teach it to my kids, do the practice problems with them, and assign MUCH LESS than the 30 problems listed for the independent practice.  My kids kept math notebooks for working out problems–but they were also allowed to write in the workbooks.
Here's a peek at one of my daughter's  Saxon Math 8/7 from several years ago: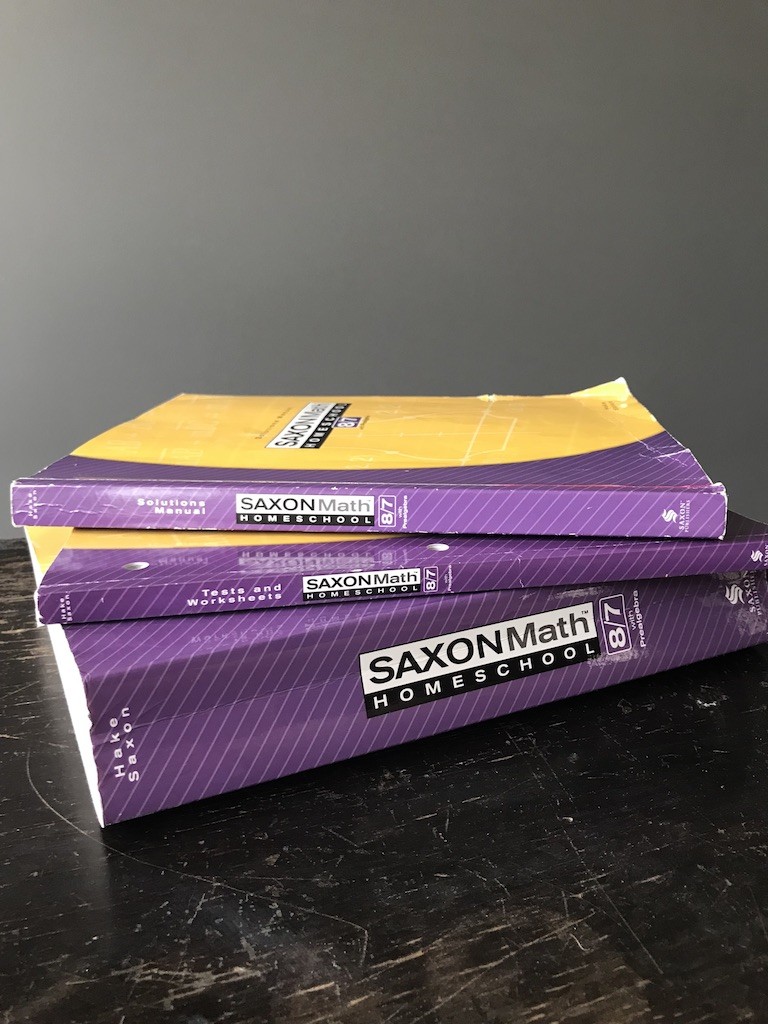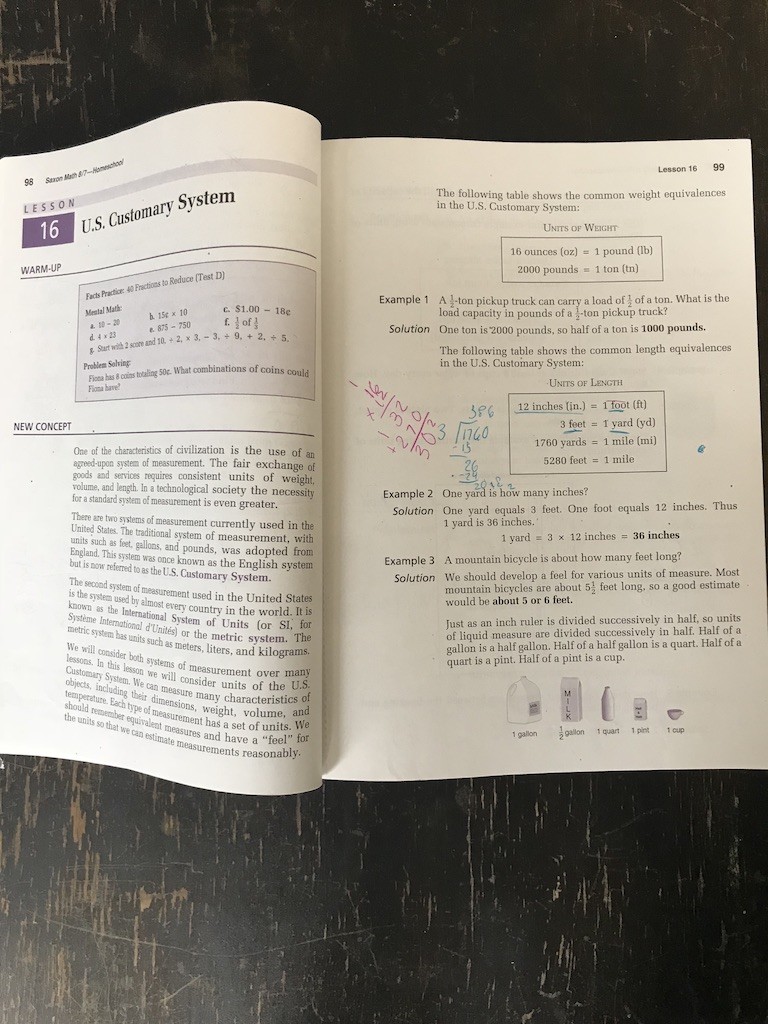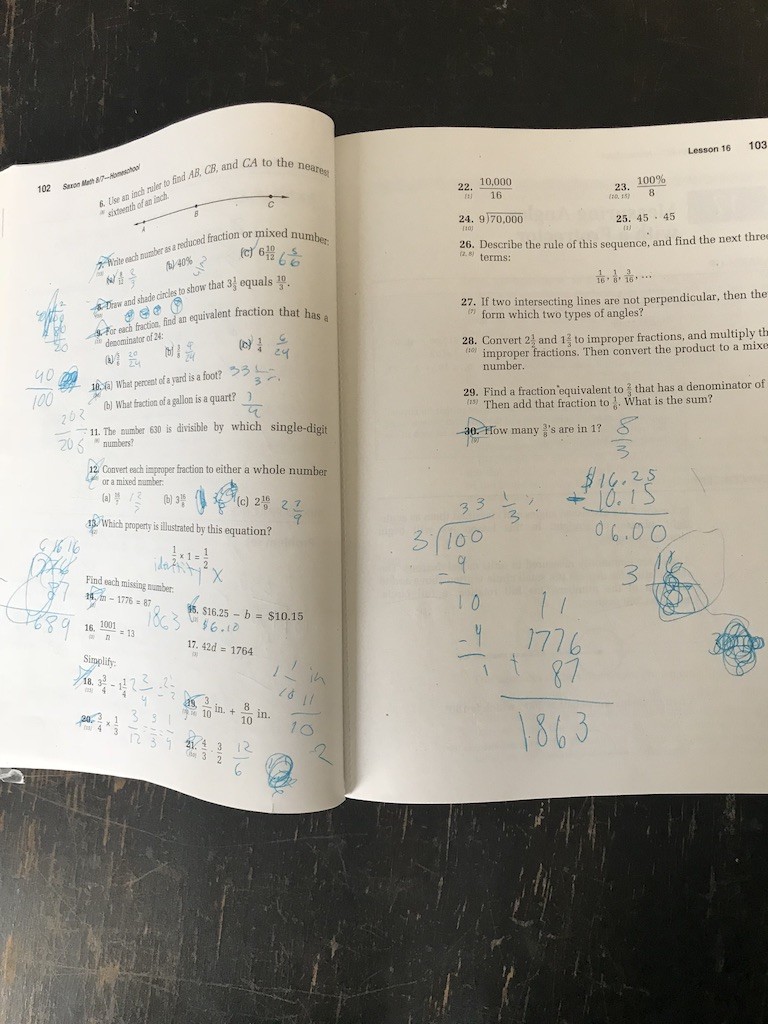 So as loyal as I've been to Saxon Math over the years–I switched to Teaching Textbooks when my daughter was in middle school…And we LOVED it!  (I've got a post all about our switch.)
I continued using Teaching Textbooks for her high school math program for about 2 years–it exceeded my expectations!  My daughter gained confidence and independence in her math work–no more math tears! (And it helped free up my time while I homeschooled my little people!)
However–she still struggles with math.  But she is not a "math person." This child is a poet and artist…I don't think it would matter what math curriculum I used–math would not be her cup of tea…
Homeschooling high school takes its own interesting twists and turns–she decided to graduate early! So for her senior year, she took 2 semesters of math from our local community college.
(That counted as 2 years of high school math–whoo hoo!)
Having said all that…I really like being heavily involved in teaching math through the elementary years–but if you're looking for something to take teaching math off your plate, Teaching Textbooks is an excellent choice!  

Sometimes we just need to mix it up a bit–add a little spice to the 'ole homeschool routine! We are currently using the new editions of  The Good and the Beautiful Math (Math 1 & Math 5)…I'll let you know my final verdict after we've finished the year! 
My Favorite for Teaching Science:
So confession time…I really am a science curriculum snob!
There is just nothing I love and trust like Apologia Science!  And I appreciate that Apologia books consistently point to God–the Amazing Creator!
It works so well for me because I have lots of kids–and with Apologia, I can teach them all together with one book!   In the elementary levels, Apologia Science delivers information in a very conversational style with lots of pictures and engaging questions.  The books are easily shared in a gentle way to all your kids during a read-aloud time.  My children created notebooks chronicling what they were learning, and we did the simple experiments as time allowed.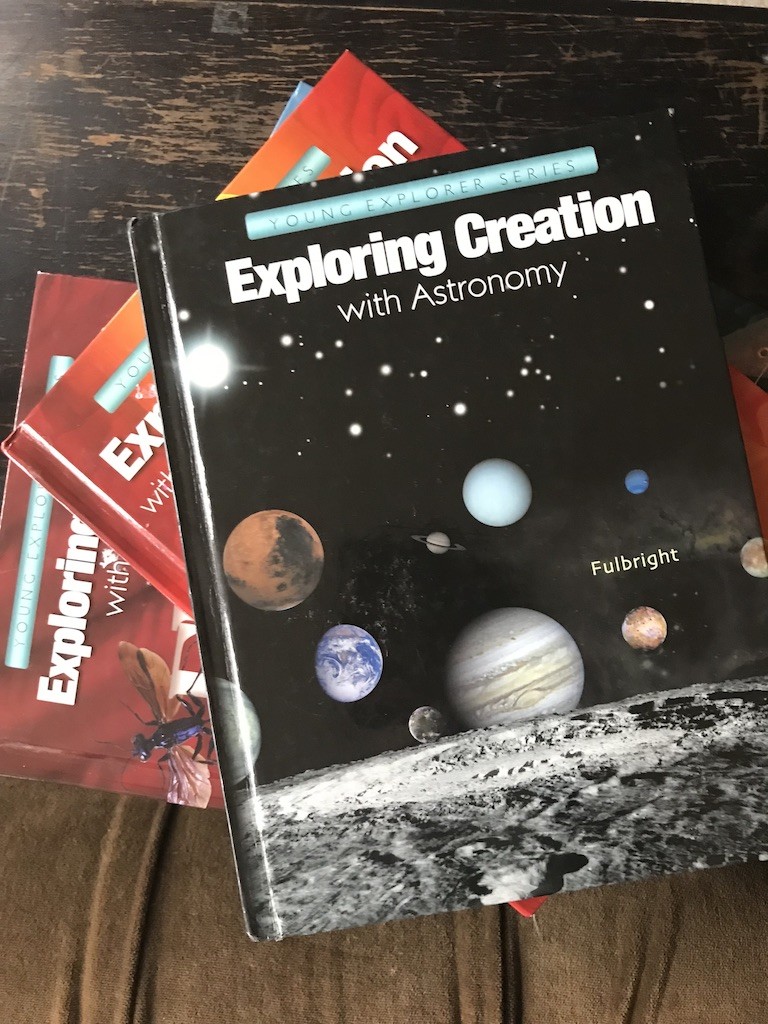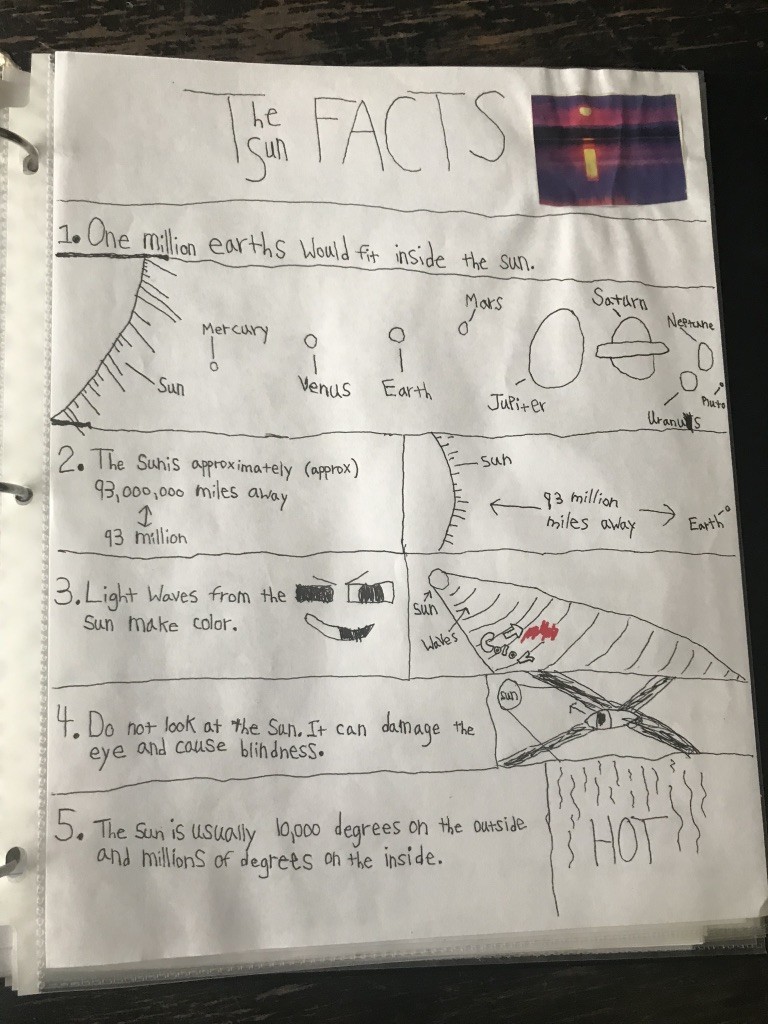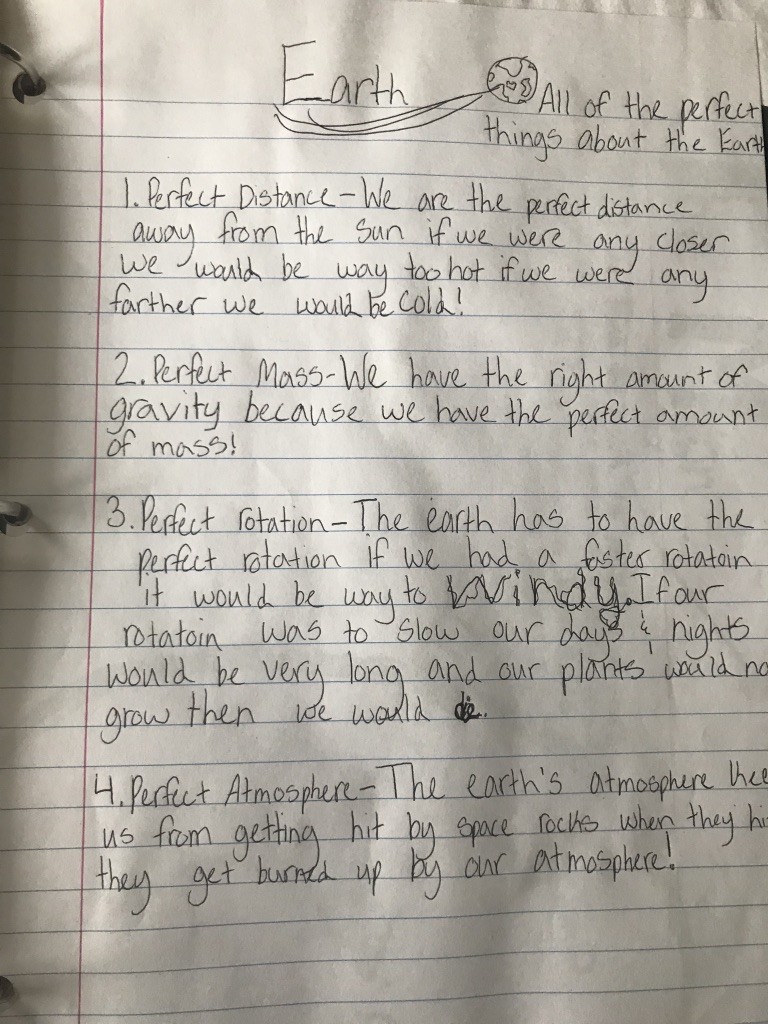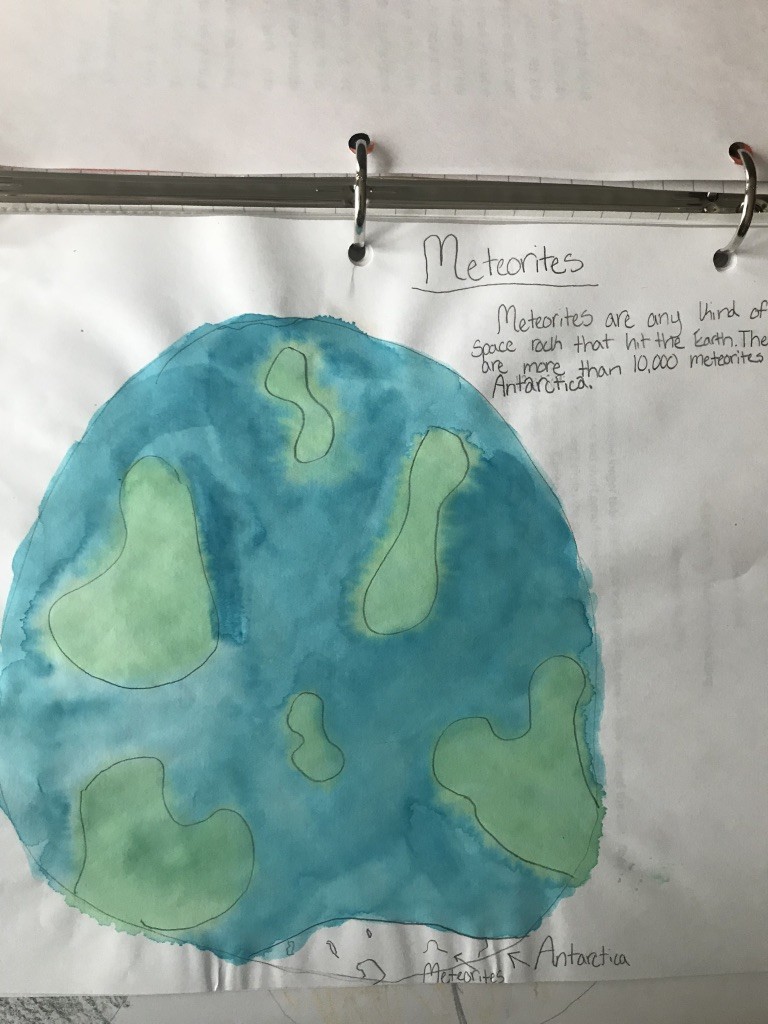 As my kids entered the middle school years, they often were able to read through the books independently. (Exploring Creation through Science Series–I used books from this series for kindergarten through 7th grade).
I've collected the books over time–and Apologia Science has turned out to be a very cost effective way to teach elementary and middle school science!  Now I often leave an Apologia textbook out for my kids to look through and engage with– even when we aren't studying that particular book.  My son is obsessed with wildlife–so the Apologia books just seem like fun books we checked out from the library!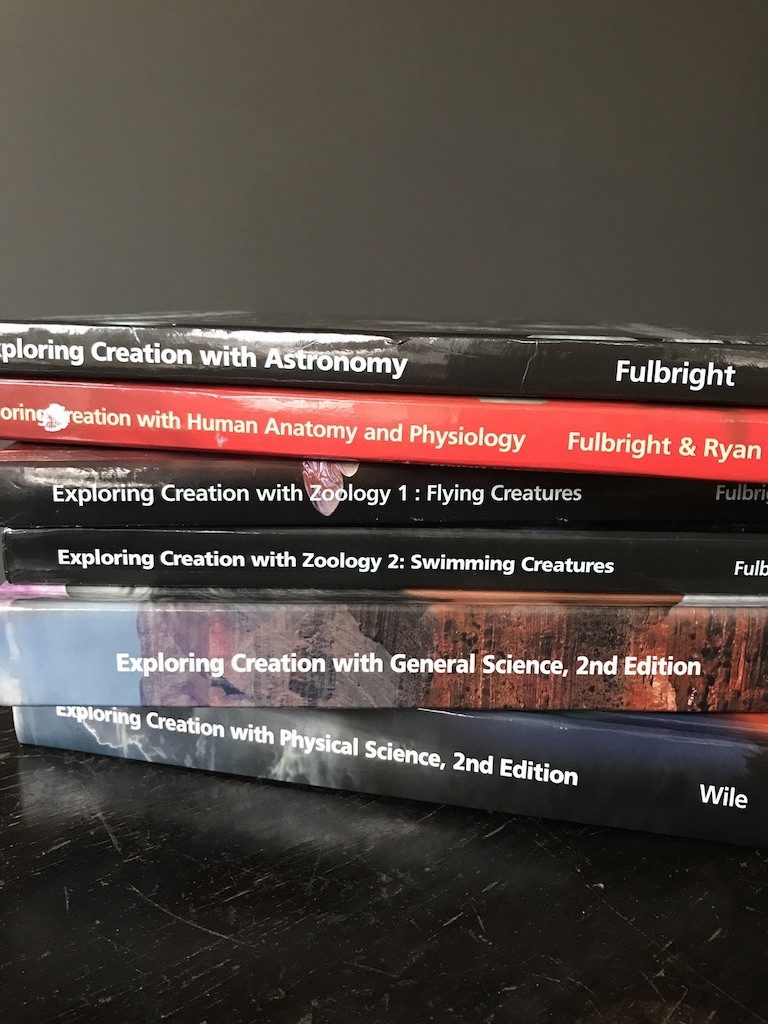 Here's a peek at General Science from my middle daughter's 8th grade year!
**We also loved using their high school biology and chemistry programs (the student notebooks & video supplements were must-haves)!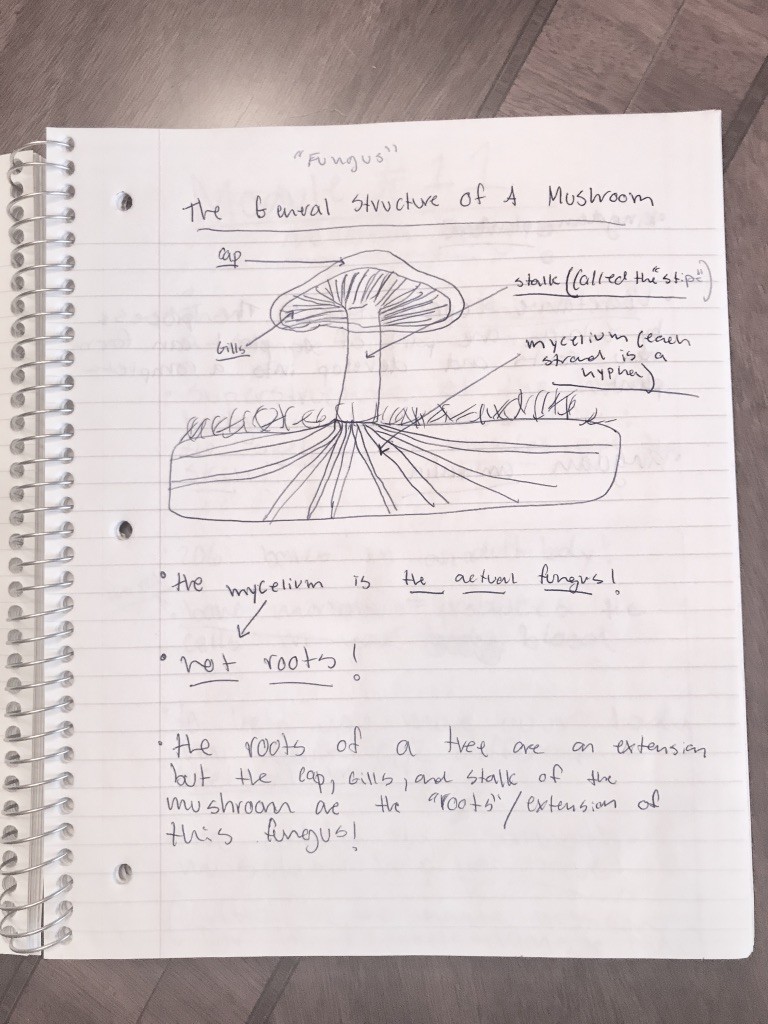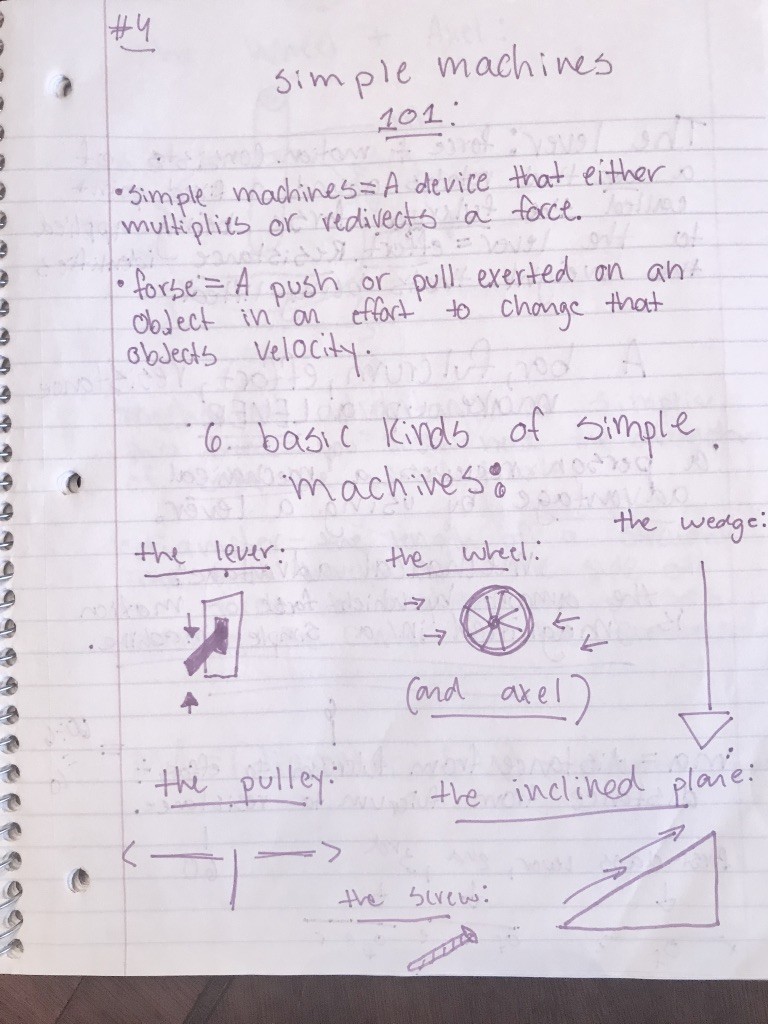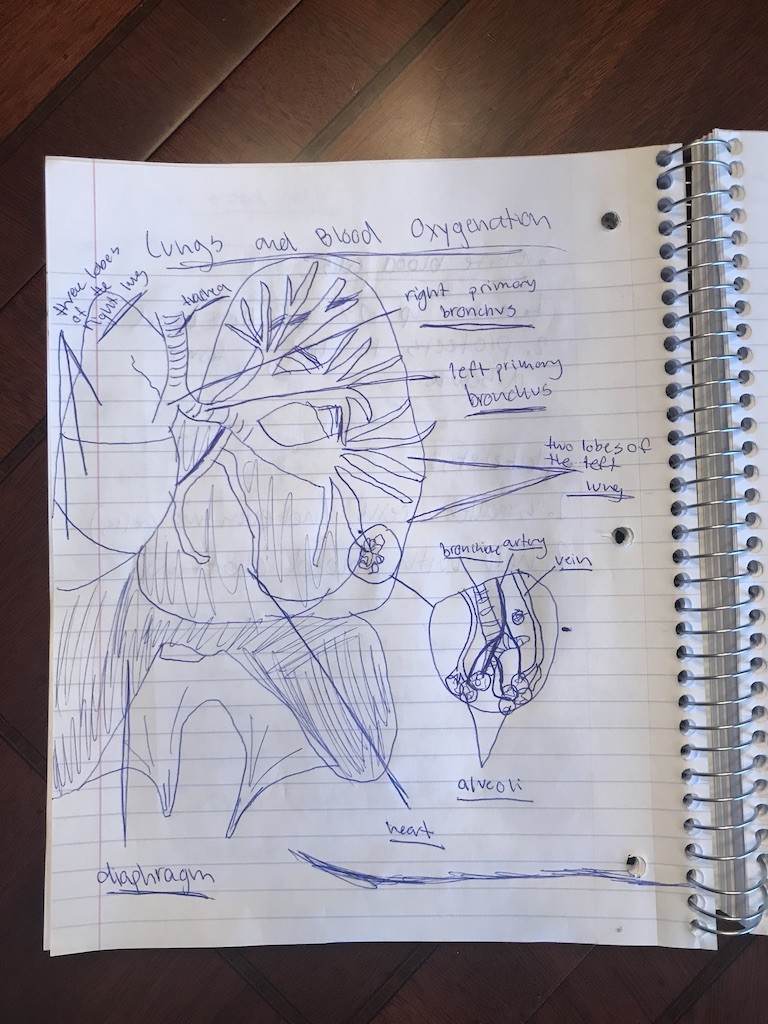 My Favorite for Teaching Language Arts:
Spelling:
One book does it all!  Spelling Power covers spelling for 8 year olds through adults–another great value for a large family like mine!  It takes about 15 minutes a day for each child to complete spelling.
Lessons look something like this…
The parent gives a quick 5 minute, individual spelling test to each child daily.
Then kids practice only missed spelling words for about 5-10 minutes.
Younger kids will require more assistance and supervision in practicing the words–but older kids can do this fairly independently.
The next day, yesterday's missed spelling words are assessed first.  If time allows (only 5 minutes for testing)–new spelling words are introduced.
It really becomes a simple routine.  (Here's a post with spelling strategies you can use with Spelling Power!)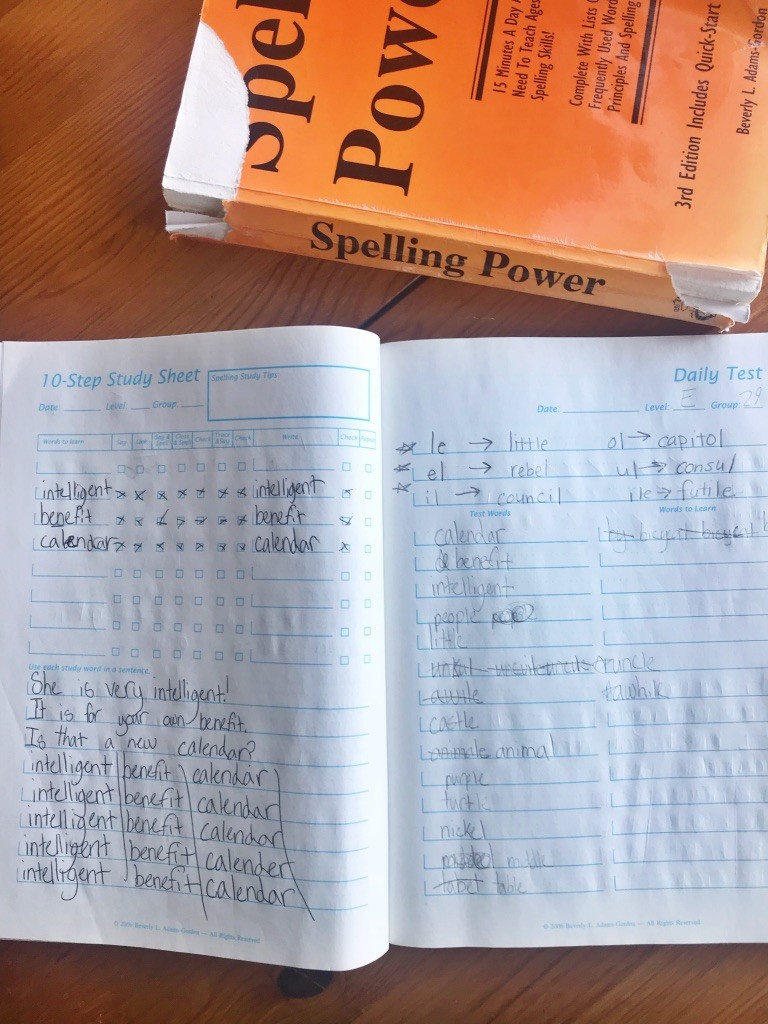 Grammar:
I LOVE Shurley English!  But I hesitated buying it for years because I thought it would be too "sing-songy," (it uses jingles to help with memorization).  I was totally wrong–and really wish I would have tried it earlier!  If you're looking for solid grammar instruction with no diagramming (I personally hate diagramming sentences)–you will love Shurley English!
In particular, I was really pleased with Shurley English Level 7 (which is the program's highest level).  Not only did it cover all basic grammar skills–the writing lessons included in each chapter are excellent and very comprehensive for middle school students!
**Sidenote…I don't think formal grammar is necessary every year! 😉
Writing:
I've used several of IEW products over the years and have always been impressed with the organized way IEW teaches writing!  
It utilizes lots of modeling.
Often in the elementary and middle school years, students are given a piece of writing to expand upon and improve.
Sometimes kids just don't know what to write about or how to start writing–not issues for kids using IEW!
(FYI…I have used  Level B–grades 6-8, and I've using Advanced U.S. History-Based Writing Lessons and Fix-It Grammar (Book 5) for my daughter in high school.)
Another Sidenote…
Julie Bogart is one of my favorites in the homeschool world–she is amazing.  I love her.
(Her book, The Brave Learner, is one of my very favorite homeschool reads, and I recommend it to all my friends!)
I very much wanted to love her Brave Writer curriculum–I've tried many of the products.  But for whatever reason–they haven't translated as nicely into my actual homeschool…
I think her philosophy of teaching writing is very much worth your time exploring—and integrating into whatever curriculum or approach you use.  She has some great free samples of her products that can help you decide if they would be a good fit for you…
Vocabulary:
Wordly Wise vocabulary workbooks are a quick, no-prep way to build vocabulary and reading comprehension skills!  I typically use them for grades 3-7.
These little flash cards are awesome–they painlessly introduce Latin and Greek word roots!  I bought both sets and have used them in several ways over the last 10+ years.
When my big kids were younger, I'd introduce a new card each week.  We kept a pile of cards on the table and reviewed them casually.
In middle school, my daughter studied 5 cards each week and adds the roots, definitions, and words to her vocabulary notebook.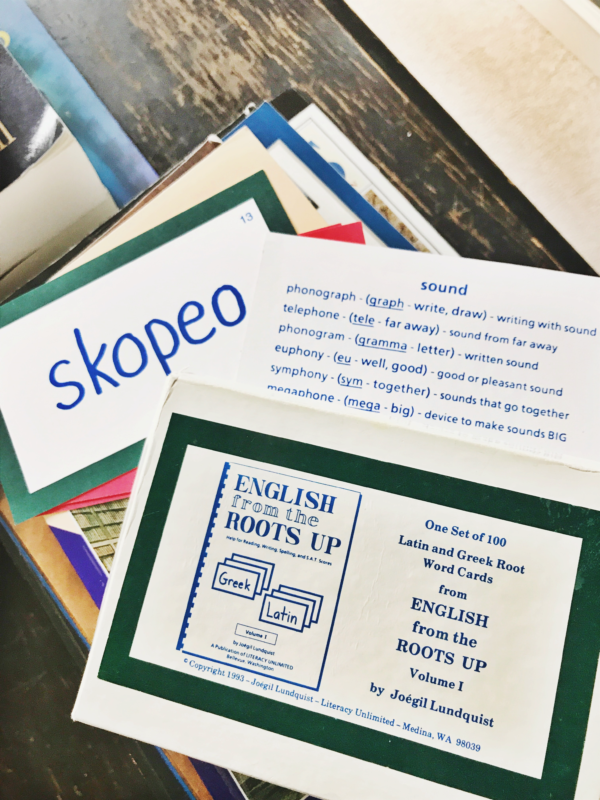 Handwriting:
I've always been happy with the simple and straight forward approach Handwriting Without Tears presents handwriting instruction and practice.  The workbooks make it easy to squeeze handwriting practice into a busy day!  (I've got two left-handed kids–if you do too, my tips for teaching lefties might help you!)
I've been exploring their handwriting curriculum. And I'm kinda loving it. It very well may become my new favorite…
I will also say–try their typing program!  Hands-down the best typing program I've used…No computer games–just old school typing using a book and your favorite word processing software (Google Docs, Word, Pages, etc…).
Reading Instruction/Phonics:
So I might be biased–but I designed a beginning phonics program: Ready for Reading!  I created the curriculum after years of using Saxon Phonics K to teach four of my kids to read and my years as a 2nd grade classroom teacher.
Why I love it/made it:
Open and Go!
Fun & Creative–littles learn through play!
Systematic, Phonics Based
Super Affordable
Family Friendly
You can find out more about teaching phonics in my posts Best Way to Teach Reading and Choosing a Phonics Curriculum.



Well–I might have saved the best for #11! 
In all my years of homeschooling (and classroom teaching)—not one single curriculum has impressed me as much and has been as effective as All About Reading. Totally exceeded my expectations in every way.
I wish I had it when I was teaching in the classroom, and I certainly wish I would have used it with my older children.
If you have a struggling reader–this is the answer.
If you don't have a struggling reader, but want to provide phenomenal phonics based reading instruction to your kids–this is the answer.
It is all the things a busy homeschool mom needs and wants…
Open and Go!
Fun & Creative (my son loves the lessons)!
Immediate Success–we saw progress right away!
Not a bunch of busy work/worksheets!
For years the price was my hang up…But my little guy needed some extra help–and I desperately needed to find something to work for him.
I decided that reading was/is the most foundational academic subject I'm teaching…If I'm going to spend extra money on a subject–reading is it!
All About Reading did not disappoint…I love it. My son loved it.  Now he's a reading at or above grade level and all is right in the world. 😉
I continued using it for all 4 levels with him. And I'm using it with my twins!
**Honorable Mention: An Old Phonics Favorite I Still Recommend:
Explode the Code workbooks are simple, whimsical, and inexpensive!  They provide reinforcement of phonics lessons and rules–and are perfect for practicing skills over the summer or alongside any reading curriculum during the school year.
When my older kids were reading at a 1st-2nd grade level and transitioning out of formal phonics lessons–I used Explode the Code workbooks as my main curriculum resource for providing phonics instruction.
They were not enough to help my struggling readers get over the hump–but still a great choice for many kiddos!
My Favorite for Teaching History/Literature Unit Studies
I've used Sonlight off and on over our entire homeschool adventure! I love all the literature–it's another excellent choice for families trying to combine levels and subjects (history, literature, bible–and even science) for multiple children!
I personally enjoy the way Sonlight is organized and its book selections. But it took me awhile to feel confident in combining my kids into Sonlight levels–so it seemed more expensive and time consuming.
But in reality–having several kids using the same level of Sonlight is very doable!  One year my 3rd grade son and kindergarten twins all used the "kindergarten" level: Exploring American History. The books are definitely appropriate for 3rd graders! There's no way I could do 2 separate history/bible levels of Sonlight at the Elementary level–but there's really no reason to do that!
Additionally, I've also used Sonlight for American History and literature at the high school level–loved it!
History Curriculum Honorable Mentions:
Tapestry of Grace & I'm currently using book lists from Beautiful Feet!
I explain more about how to teach history without a formal curriculum in this post!
Favorite Homeschool Curriculum All-Stars
So that's my homeschool in a nutshell!  Now you know the homeschool curriculum that has shaped my kids' education and our homeschool experience over the last 19 years!  I hope my favorites can be a spring board for you to explore new curriculum choices for your family!  I'd love to hear what curriculum is a "must-have," in your family!  What are your homeschool favorites?
With Love,
Jen xo